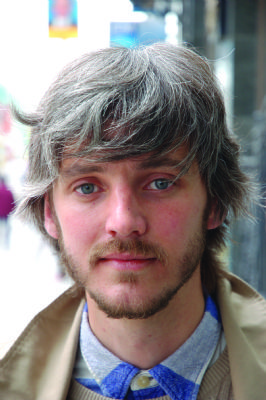 An interview with Rob Doyle

(Issue 17, Summer 2014)
Rob Doyle has been back in Dublin for just over a year now. He is one of three brothers who all studied philosophy at university. 'It's strange because I come from a very straightforwardly working class family. It wasn't like, "Now, my son, you will go and study philosophy …"'

'When I was a teenager I played in a lot of bands. Music was the big thing, you know, writing lyrics. The first band I was ever in was called The Chicken Splitters. That was where the passion was and that was where the fascination was, but I'm not a particularly good musician.
'I was always writing, from the time I was a teenager. From I suppose about 19 or 20 I had a fully formed idea that I wanted to be a writer, but I didn't really know what that meant. One thing my mother always said (I think she got it from Gay Byrne) was: "The best gift a parent can ever give their child is the gift of reading", and she kind of lived by that. She took us up to the library when we were 7 or 8, I think, for the first time and I just got hooked. I then graduated onto my dad's reading material, which was really brutally violent kind of Patricia Cornwell novels or whatever. I felt really sophisticated and grown up reading them.
'I suspect I would have been kicked out of school – I was quite an arsehole really – but my English teacher was my class master and I suppose he was sympathetic towards me because I was very bookish. At college I didn't have the kind of inner calm and the stillness that you need to write. And I wasn't exactly living a particularly conducive lifestyle. But I remember one lecturer came up to me when I was graduating and said, "Look, something that you should know is that you can really write." She didn't say, go do this, go do that, she just said whatever you do next bear that in mind, and that's a beautiful thing because at that age I didn't necessarily have the self-assurance.'
Doyle got a 1st class degree in philosophy and went on to do a Masters in psychoanalysis at Trinity. 'When I finished I just worked for a few months, 12–hour days kind of thing, at the Dublin Mail Centre. I was living at home so I could save a load of money, and I suppose one of the things I was aware of then was I wasn't really ready to write in a sense that I needed more life experience, more perspective or something, so I went away travelling for about two and a half years, and I must have written, I don't know, a million words. I filled up notebook after notebook and I wrote a blog, at least a couple of thousand words a day, which became quite notorious I suppose because I made a decision to be totally honest, and you're travelling around South America and there's all kinds of drugs and sex and God knows what …
'It was still very formless but I was definitely on the right track. And then after a couple of years I came back to Ireland and worked for a few months – at this stage I was 25 and like I said I had written millions of words but had never published a thing – and I thought, okay, it's now or never. So I went to live in Sicily, in a small town called Alcamo on the Gulf of Castellammare. Still mafia-dominated and economically depressed.' There Doyle started work on a novel while teaching English. 'It was set in South America. I wrote and wrote, and when I got to the end of maybe the second or third draft I realised it wasn't very good.' Disheartened, he decided to join some of his friends back in London. 'More or less the first day after landing there I started to write a new novel, because I had a kind of impulse while I was in Sicily, a kind of a flash of an image in my mind of a bunch of young people in Dublin on a grey, desolate beach getting drunk. There was a real emotional undercurrent to it. All of that travelling was just in a sense getting a bit of perspective on the years I had spent in Dublin.
'I submitted a story to The Stinging Fly in the summer of 2012. Dave Lordan was guest editing so I sent a really filthy kind of pornographic story to him. That was the first thing I ever had published.'
Before moving to San Francisco, to be with his girfriend at the time, Doyle submitted his novel to Lilliput Press in Ireland. 'They got back immediately, saying, oh, we love this, this is great, you know, very, very positive feedback. And then I didn't hear anything for a while. And then I heard on the grapevine that my novel had taken a back seat because they were publishing this other guy called Donal Ryan. He stole my thunder. I was raging at him.
'It was a weird time in San Franciso because my relationship was kind of crumbling around my ears. It gave me a hell of a lot of time to write though because I had nobody else to talk to. So while I was over there I wrote a bunch of stories and they started getting into The Moth, The Dublin Review … It was like the floodgates opened.'
Doyle's novel Here Are the Young Men was eventually signed up by Lilliput and was published in June this year. 'I met Donal Ryan when I came back to Ireland and he's sound, you know, he's a good man!
'It took four years for the novel to be published. When I published that story "Killian Turner, Ireland's Vanished Literary Outlaw" in The Moth last year, I got a letter from the poet and novelist Theo Dorgan, saying, I read your story and I loved it, and I thought, well, that's amazing. It was a bit like the philosophy lecturer telling me, you've got the skill to write, you kind of think, yeah, I'm on the right track, because at that point I didn't have a publishing deal, I was more or less floundering.
'The big thing was signing the book deal. The relief was exceptional. You're labouring away for years and there's a lot of dread with that, especially as you start hitting your late twenties, and then you turn thirty and more or less the only thing you've ever committed to or felt passionate about in life has been literature, and even if you know you're not without talent the world is always going to look on you a certain way if you're going around saying, yeah, you know, I have this book which hasn't been published yet, and it becomes a source of real anxiety. I would say if that book hadn't gotten signed by this time, living back in Ireland, having broken up from a long term relationship, I would probably have been in the doldrums fairly severely, so it was good timing. It's important to have that hunger and all, but in my case I think that recognition was absolutely essential for my mental well being. The storm in your head could become quite humiliating if that went on for year after year.
'After I sent in the final proofs I suddenly realised how exhausted I was and I began to wonder, God, maybe I've burnt myself out, but then of course you take a break, you get drunk with your friends or whatever and it comes back, the energy comes back and the desire and the passion. So I'm not putting myself under the whip at the moment. Anyway, I wouldn't want to be the kind of writer who just churns out novel after novel. Make them count, you know. I suppose second novels can be difficult because all your experience in a way has gone into your first book and it's raw. I was 27 years old, living in London on instant noodles and raw carrots and cheap bottles of gin from Aldi, deliriously happy.'
Doyle quit working last winter. 'I decided I'd take the opportunity to go into solitary confinement down in Rosslare Harbour. It's a strange little place. Everyone in the town is kind of transient. So I've been down there doing nothing apart from reading and writing for five or six months and I've more or less decided that it's no way to live. You just need some kind of human stimulation or else you're not getting nourished, you know.'
Rob's parents, both Dubliners, are 'exceptionally proud' of his recent publication, though they have yet to read Here Are the Young Men. 'I'm wondering how cheerful and proud they will be when they see what actually goes on in the book …
'And now suddenly I feel that urge to travel again, just as strongly as ever. I felt for a while that I had been away from Ireland for so long that it was wondrous and exotic and marvellous to me, and it still kind of is, but it's just the allure of elsewhere …'